In this ARK Survival Evolved guide, I'll teach you how to tame a Shadowmane in ARK Fjordur. I'll show you where to find this creature on Fjordur. Shadowmanes are stealthy creatures that should not be underestimated. Because they can roam around undetected and can launch surprise attacks on their prey.
Where to Find Shadowmane on Fjordur
To find Shadowmane on Fjordur, you'll need to go northeast of Asgard. Once you get there, you will need to find a small forest with purple trees around the water. If you turn around and go in the direction the penguin statue is facing, you will see two forests with purple trees. Shadowmane can be found in both of these forests.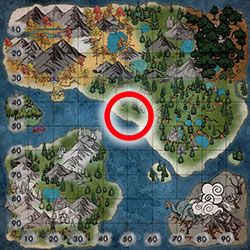 How to Tame Shadowmane
You will need to catch a fish using a basket and feed the creature. There are different fish qualities in the game. If you look at the name of the fish, you will see a number at the end of its name. The number will be like 1.1x. This number indicates the quality of the fish. Higher quality fish makes the taming process more effective. But, 1.3 or higher would be enough.
After you finish fishing, go to the purple forest. You'll need to sneak up behind the creature. Otherwise, it will attack you and you will start over from the beginning.
You will have to disguise yourself from the creature. I definitely recommend using Ghillie Armor. If there are other small creatures around Shadowmane, you will want to kill them first. Because there should be no noise while interacting with the creature.
Once you get close enough to the creature, you will need to feed it. Then the creature will become invisible and go somewhere else. You will need to use your taming tracker to find it. After finding its location, you will have to wait until the creature sleeps. This can take up to a minute or two. Once you see the creature sleeping, sneak up again and feed the creature. This is how you can tame a Shadowmane in ARK Fjordur.