In this ARK Survival Evolved guide, I'll show you how to tame Andrewsarchus and where to find it on Fjordur. Andrewsarchus is a wonderful creature with really cool abilities. And the taming process is not so hard. You'll just need to get some honey.
Where to Find Andrewsarchus on Fjordur
Andrewsarchus can be found at coordinates 46.5 and 93.4. This is the best spot to find Andrewsarchus on Fjordur. Once you get there you will see at least two Andrewsarkus walking around. It's a good place to tame this creature.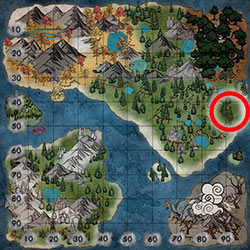 How to Tame the Andrewsarchus
First, you will need to get some honey. You will find a cave at coordinates 04.0 and 47.4. There is a mini-boss and tons of honey inside this cave. Just bring your farming tool and harvest some honey. Harvesting about 30 or so honey would be enough to tame this creature.
Wearing a camouflage like the Ghillie Armor will protect you from being spotted by other high-level creatures. Camouflage makes the taming process much easier. If you see two Andrewsarkus or more walking around together, you'll want to stay away. They will often attack you. Try to find an Andrewsarcus roaming around on its own.
Put the honey in one of the equipment slots and give it to the creature by clicking the corresponding button. Then hit the ride button. You will need to press the right or left keys depending on which direction the creature is going. Press D if the creature leans right. Press A if the creature leans to the left.
At the bottom, you will see a bar indicating taming effectiveness. You'll have to hop off and hit E before it gets completely red. After waiting for about 30 seconds, throw out some honey and jump back on the creature again. This is how you can tame the Andrewsarkus.
Powers and Abilities
If you click left, it will bite. If you right-click, the creature will buck. Its kick isn't as strong as its bite, but it will be enough to stun your enemies. If you click the spacebar while riding this creature, you can jump very long distances. If you press C, the creature will charge forward. After using this ability, it will take about a minute to recharge.