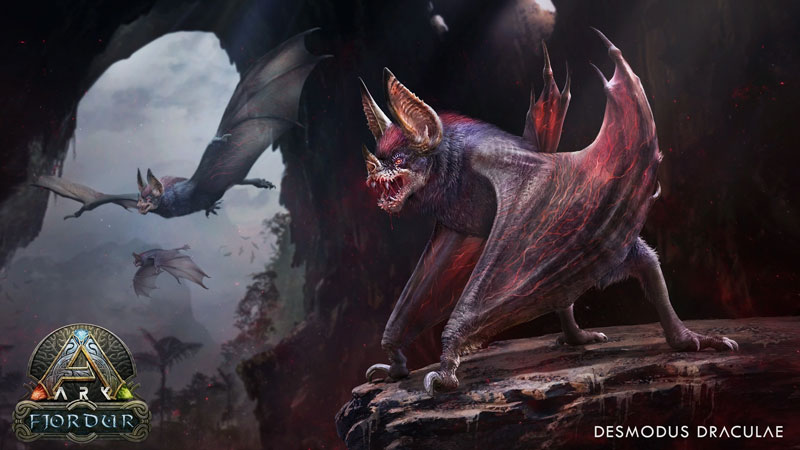 In this ARK Survival Evolved guide, I'll show you where to find Desmodus Draculae on Fjordur and how to tame this guy. Several new creatures have been added to the game with the new expansion. Desmodus Draculae is one of them. Desmodus is one of the most useful things of this DLC because it has some really cool abilities that can be used for a number of tactics.
Where to Find Desmodus Draculae on Fjordur
Desmodus Draculae can be found at coordinates 90.9 and 77.6. Once you get there, you will see a tunnel under the lava flow. The tunnel is located in the southeast corner of the island. You will come across other dangerous creatures there as well, so you will need to be prepared.
There will be another cave hidden behind a waterfall at coordinates 37.6 and 74.9. You can find a Desmodus in this cave as well. There may be other locations you can find this creature, but these are the best spots to tame Desmodus.
How to Tame Desmodus Draculae
You will need to bring a powerful tame to kill other high-level creatures. It needs to fit inside the cave. The megatherium will fit in there. You'll also want to bring the Harpoon Launcher and some nets with you. You will use blood packs to tame Desmodus.
Once you find it, it will attack you and start sucking your blood packs. This means that the taming process has begun. 40 blood packs would be enough to tame this bloodsucker.
It's one of the best companions in ARK and has some cool abilities like hanging upside down from the ceiling. You can use this creature as a tracking sonar at night. If you hold the left click and then release it, it will light up all other creatures around.