In this guide, I will show you where to get the Beyla Relic in ARK Fjordur. To get this relic you will need to kill the Beyla boss. It will be a pretty tough boss, but you can bring a huge dinosaur to the arena. Or you can bring a creature that deals high damage to the insects.
Beyla can fly and you can be knocked down very quickly. Once you're ready to fight, you'll want to have a medical brew ready to drink before summoning the creature. You will need 30 runestones to start the fight. Runestones can be earned by killing alphas on the island.
Where to Get Beyla Relic on Fjordur
To get the Beyla Relic, you will need to go to the honey cave located on the northern edge of the island. The cave can be found at coordinates 03.8 and 47.5. Once you get there you will see a very large cave entrance, and on the left, you will see a large dam. This point is pretty close to the ice biome, and one of the spawn locations in the north of the island.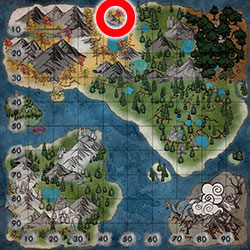 Once inside the cave, keep moving straight until you get to the boss chamber. You can see some lower-level creatures such as bears or snakes. After you defeat the boss, you will get the Beyla Relic.
This cave is also a very good spot to get a lot of honey. If you do not want to fight the boss, you can get useful resources.