In this War Dead Catacombs Dungeon guide, I'll show players how to do one of the weirdest dungeons in Elden Ring. The War Dead Catacombs dungeon is located north of Starscourge Radahn's arena. If you go to the north of this arena, you will eventually see a barren desert. Once you reach the side of the cliff, you will find the War Dead Catacombs Dungeon.
How to do War Dead Catacombs dungeon in Elden Ring?
In this dungeon, there are several rare items that you can get. You'll find spirit summons and a spell, which are pretty good items. I definitely recommend using a shield in this dungeon. If you go left and right when you enter inside, you may encounter interesting items. The spell is one of them. Or you can go directly to the boss chamber located at the back end of the dungeon.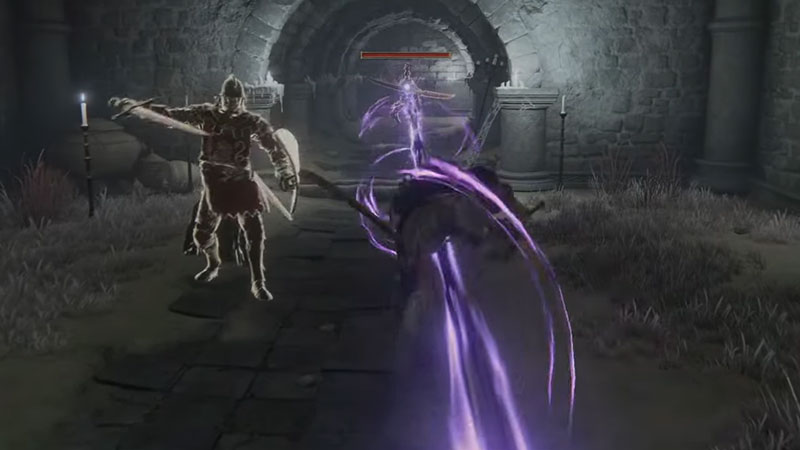 When you go up the right-back stairs, you have to dodge the purple arrows. You can use your shield or roll through the arrows to dodge. I just prefer to use my shield because eventually, the archer will switch to normal arrows. You have to block these arrows until you get close to the archer. When you get close enough to his location, he will draw out his sword. You can fight enemies if you want, but it's okay to run away from them. Once archers take out their swords, they will not draw their bows again. So there is no point in fighting here. I'd rather just pick up the stuff and run away.
If you aggro gargoyle statues, they will fight. So don't mess with them, just keep running. Finally, you will come across the Cleanrot Knight. If you wish, you can fight because you will earn a pretty good item. You can take the Radahn Soldier Ashes and run away.
The shield will be very helpful
You have to pull a lever to unlock the boss chamber. Definitely use a shield to fight the boss. Because this is a pretty tough boss to fight without good equipment. After defeating the boss, you will earn Redmane Knight Ogha. Redmane Knight Ogha is a pretty good archer spirit you can summon in the Elden Ring.
I hope this War Dead Catacombs Dungeon Guide was helpful.