Another expansion of ESO, High Isle, was released on April 5, 2022. Finally, we figured out how to get the new powerful Mythic item called the Oakensoul Ring. In this guide, we will show you how to get Oakensoul Ring in ESO High Isle. As this item is a tough one to get, we will try to explain it as simply as possible.
How to Get Oakensoul Ring
To get the Oakensoul Ring first you need to unlock the Greymoor DLC or subscribe to ESO Plus. Then you need to dig up gold-quality leads. To get gold quality leads, you must have at least level 7 Scrying and Excavation skills. Once you reach level 7, you will need five of them to assemble the Oakensoul Ring.
Here are all the leads you will need.
Stone Shank Frame
Petrified Oak Loop
Larimar Gems
Igneous Inlays
Sacred Resin
You'll need to get all of them to create your new mythic ring.
Igneous Inlays
This comes from Volcanic Culverts in the High Isle Amenos zones. You have to go around the areas that look like propellers on the map and attend events. The drop rate isn't much better than 50%, so you can try several times before you get Igneous Inlays.
Larimar Gems
There's a Titanclaw boss in Mudcrab Beach that everyone is trying to kill at the same time. So, you need to constantly deal AoE damage or try to nuke it down together with other players.
Petrified Oak Loop
You'll find the Petrified Oak Loop in strongboxes in the Murkmire Zone. However, this is really challenging because the player who unlocks the strongbox can get the lead. You might want to go there when it's less crowded. And you need to turn off the Auto Loot feature to ensure the strongbox is always visible.
Sacred Resin
You need to go to Malabal Tor and kill the mobs to get this lead. Very simple. Just kill the mobs in that area and they will drop the lead.
Stone Shark Frame
This is a Blacksmithing Node that you can get from the Glenumbra zone. These are pretty easy to get, but leveling up the skill line will help you find them.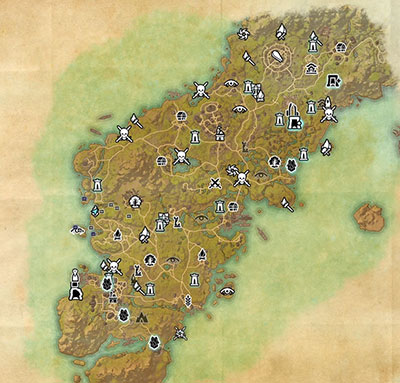 Collect all those leads and assemble the ring.