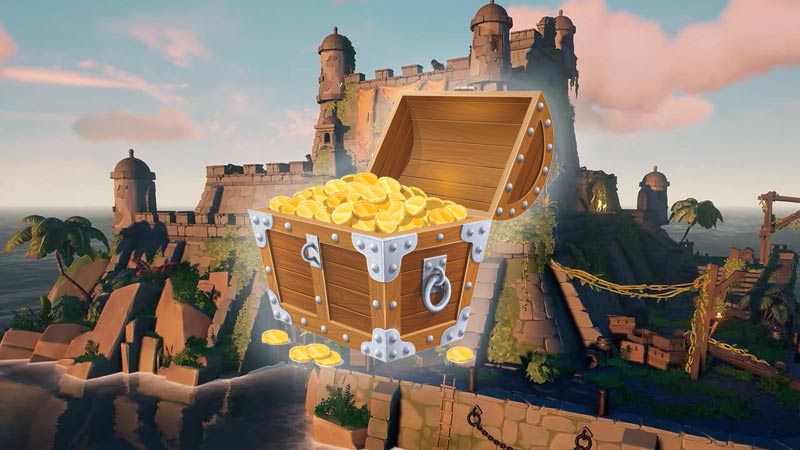 In this guide, we will show you how to get gold easily and quickly in Sea of Thieves. We're going to show you one of the fun ways to get gold. It is for solo players.
A few months ago, the developers added several fortresses to the game. You will need to visit these structures spread all over the map to steal gold. You can tell which structure is a fortress just by looking at its bright greenish colors. If you look at the map, you can find a lot of fortresses that look like small squares on the map.
Sea of Thieves: How to Get Easy Gold
The first thing you need to do is sail towards one of these structures. Once you reach your destination, you will want to park your ship next to the castle's dungeon. Because you will use your harpoon to transport the treasures to your ship afterward. You will open the dungeon gate from inside.
When you enter the castle, there will be many ghosts attacking you. But don't worry, you can easily destroy them. We recommend using a shotgun to kill them in one shot. It takes about 8 minutes to destroy everything inside the castle. Once you kill everything inside the castle, the captain will appear and drop a key that you need to get to open the treasure room.
The treasure room can be found at the very bottom of the castle. You can find the dungeon next to it. Inside the dungeon, you will see a wooden platform that moves up and down. Put all the treasures on that platform and lower the platform down. You need to search the fortress quite carefully because there will be many hidden items.
Next, you will lower the lever to open the dungeon door and go to your ship to transport the treasures. No need to swim back and forth all the way to the fortress. You can use the harpoon mounted on your ship to bring things onto your ship.