In this MHR guide, we'll look at all the weapons in Monster Hunter Rise Sunbreak. We will help you decide what weapon is right for you. There are a bunch of new changes to the gameplay. New combos and new moves have been added to the game with the Sunbreak DLC. If you want to know which weapon you should use, this guide can give you some guidance.
Long Sword
The long sword is one of the elegant weapons in Monster Hunter Rise Sunbreak. The balance of speed and power of this sword is almost perfect. You can deal tons of damage to your enemies while moving as fast as you can. You can remain mobile during the fight and easily counter incoming blows. If you like cool anime slashes, you will want to use this sword.
Sword & Shield
The Sword and Shield is one of the best beginner weapons in Monster Hunter Rise Sunbreak. It has relatively weak raw damage but allows players to play more defensively while still doing tons of damage. The Sword and Shield is a versatile weapon that can be used in any situation. If you're new to Monster Hunter, this is your weapon.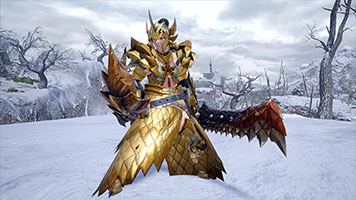 Great Sword
This massive sword can deal a great deal of damage at the expense of mobility. Great Sword is one of Monster Hunter's ancient swords with superior attack capabilities. If you're looking for a weapon that can do tons of damage, you'll want to pick this weapon.
Hunting Horn
Hunting Horn is a hunting animal flute that many players underestimate when it comes to power. If you are a player who enjoys team-based action, you can strengthen your team by performing support melodies. It's a great support weapon.
Heavy Bowgun
Heavy Bowgun is a ranged weapon that deals tons of damage to enemies at a distance. You can use Wyvernheart or Wyvernsnipe ammo to attack monsters from long range. If you want to play safe from a distance, this weapon is for you.
Light Bowgun
Light Bowgun and Heavy Bowgun are similar weapons, but if you want rapid-fire and more mobility, you'll want to choose the Light Bowgun. However, this weapon has limited ammo capacity as a trade-off.
Charge Blade
Charge Blade is a weapon that can be used as an axe and a sword. This tactical weapon provides a unique set of attacks that can deal massive damage to enemies. Although it is quite difficult to use, you can perform devastating attacks. If you are an experienced hunter, this weapon is your pick.
Bow
The bow is a tactical weapon that offers mobility in long-range engagements. Many players use the hit-and-run tactic when using this weapon. Once you've mastered it, you can deal massive damage to your enemies.
Dual Blades
Dual Blades is a pair of swords that allows the player to make quick attacks that deal a considerable amount of status damage. This weapon is for players who like to slay monsters with multiple attacks in a short time.
Insect Glaive
Insect Glaive is a technical insect taming staff that comes in two parts. It allows players to perform jump attacks that deal tons of damage. If you like to fly and kill monsters in style, you will love this weapon.
Hammer
Hammer may look simple, but it can deal tons of damage without restricting your mobility. It is one of the oldest weapons in Monster Hunter and a very common weapon used by hunters. Hammer brings together a powerful mix of unadulterated and raw damage.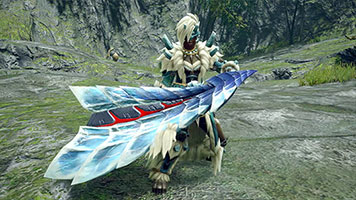 Lance
With its massive shield, Lance allows players to block incoming attacks. It is a long weapon that can be used against any attack you may face. This weapon can deal massive damage to monsters at the expense of mobility. You can attack from a distance using this weapon.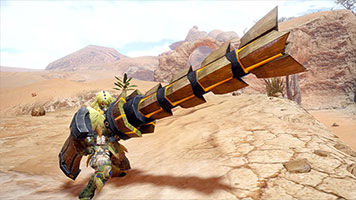 Gunlance
The Gunlance is a long, sturdy spear that can fire explosive projectiles. This weapon allows players to perform an unlimited number of powerful explosive attacks. It is only effective at close range.
Switch Axe
The Switch Axe has transforming capabilities like a Swiss Army knife. This weapon can switch between Axe Mode and Sword Mode. Each mode has its unique attack style and behaves differently.