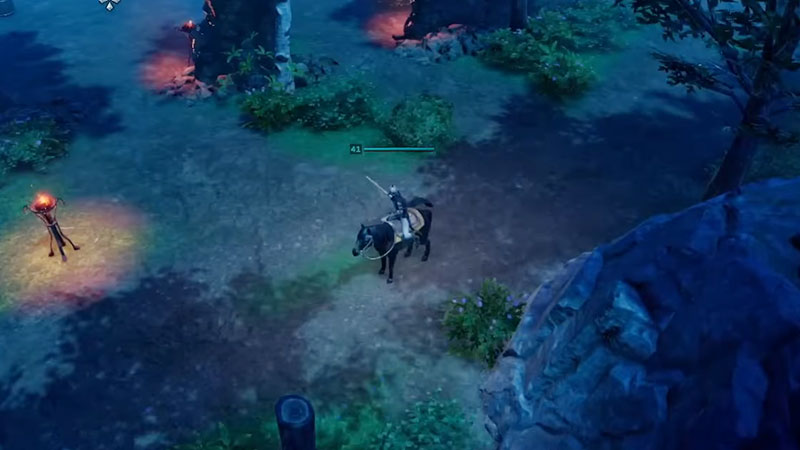 Horses are really important in V Rising. Depending on your server settings Horses can be very useful. Because sometimes you can't teleport while carrying materials. In this V Rising horse guide, I will teach you everything you need to know about horses.
Let's start with the basic controls. Hold down the F key to claim a horse and mount it. If you press the spacebar, your horse will run. And you can press Q to dismount. W, A, S, and D are the default keys for movement. In case you don't know, these are the basic controls.
It takes some getting used to the controls. However, there is a way to control the direction of the horse by controlling the camera. This is a much easier way to control your horse. Go to your options menu and go to the controls section to rebind the Auto Run button. The Auto Run feature locks your movement to your camera.
Horse Stats
Finding a good horse with good stats is vital to progress in the game. Make sure your horse is fast. To see a horse's stats, all you have to do is jump on a horse and press the tab. You will see three stats for the horse, Maximum Speed, Acceleration, and Rotation Speed. The highest I've seen for Max Speed was 11. And I saw 8 for acceleration. If you have a good RNG you can find better horses.
You can change the name of your horse by clicking the edit button in the upper right corner of the same window.
How to get a horse in V Rising?
The best way to get horses in V Rising is to go to Dunley Farmlands. After opening the map, you can hover over the area to see the important loots in that area. In some areas, such as the Militia Encampment, it doesn't show a horse but there is still a chance to find good horses.
Don't forget to feed your horse
You have to load up your horse with water-filled canteens before you go offline or it will die. Depends on the servers, but you have a week before the times run out.
To make water-filled canteens, you'll first need to unlock a tannery and craft some leather. In one of our previous guides, we explained how to unlock the tannery and get leather in V Rising. You will need Plant Fibers and Leather to make empty canteens. Once you have them, simply put the empty canteens on a hotkey. To fill them with water, move the cursor over the water and press the hotkey. You can also find water-filled canteens inside chests and containers all over the map to feed your horse.
Always protect your horses inside closed walls because someone can steal them. In PVE you can definitely jump on someone else's horses and ride off. So don't leave the good horses far from your base. Don't worry if your horse takes a lot of damage. It will regenerate health relatively quickly.