In this ARK Survival Evolved guide, I'll show you how to beat the Beyla boss on Fjordur. Beyla is one of the few mini-bosses in ARK Fjordur and it's a pretty tough one to kill. In this guide, I will teach you the easiest strategy to kill this creature. You won't need incredibly powerful turrets or dinosaurs to defeat this boss. If you have a good saddle or a good dinosaur, it will definitely help. But you won't need any of these.
How to beat Beyla boss on Fjordur
If you want to kill this creature easily, the first thing you will want to have is a gas mask. However, this is completely optional. To make a gas mask, you will need black pearls. If you don't know where to find black pearls on Fjordur, you can find them inside the volcanic cave in the lower right corner of the map. It can be found at coordinates 95.6 and 78.7.
You'll also want to bring Megatherium into the arena. You can find Megatherium in the snowy region of the island. It is located in the upper left corner of the map. If you go to Jotunheim you can find Megatherium much easier. Shadowmane is also a good creature to fight in this boss arena. You can also bring Yutyrannus if you want extra defense against Beyla.
You can find Beyla in its honey cave in the north of the island. Its cave can be found at coordinates 03.9 and 47.4.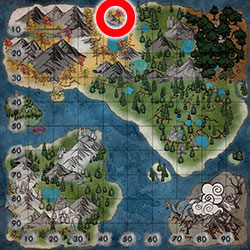 In the middle of the fight, Beyla will release poison. If you get hit by its poison, you will take damage. That's why I recommend using a gas mask during the fight. Once the boss's health reaches roughly 10%, the fight will become easier.
Once you defeat this creature, it will drop blueprints or equipment, as well as Beyla Relic.
if you have good gigas and good saddles you can easily kill any of the mini-bosses on the island.