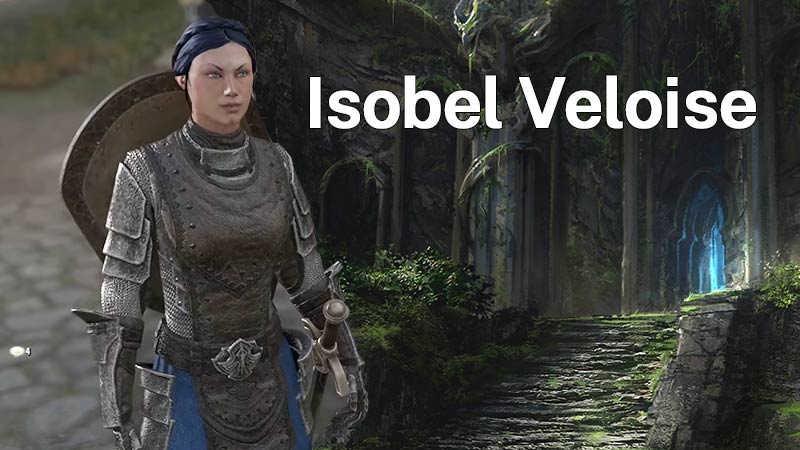 In this post, we bring you The Elder Scrolls Online guide for Isobel Veloise, a companion added to ESO along with Ember. Ember and Isobel were introduced to ESO fans with the High Isle expansion. We'll teach you how to unlock Isobel Veloise and share a good build for the new companion. You can also learn how to level up her combat skills. Companions are unique NPC allies that help you as you adventure through Tamriel.
How to unlock Isobel Veloise in ESO
You will need to visit Castle Navire to unlock Isobel Veloise. Once you get there, you will need to talk to her and complete the Tournament of The Heart ESO quest. After completing the quest, she will follow you as a companion and you will be able to summon her from the Allies tab in the Collections menu.
How to level Isobel
There is only one way to level up Isobel. You will need to find a good place with many mobs like dungeons and destroy as many enemies as possible. You will gain experience points by killing mobs. Companions do not gain XP from event completion or quests.
Rapport Leveling
The rapport level is a friendship meter that shows if the companion likes you. The following lists detail the actions that Isobel likes or dislikes.
Approval
Using a repair kit
Talking to Lyris Titanborn
Talking to an alliance leader
Completing a Bolgrul delve daily
Visiting an Undaunted Enclave
Killing a delve boss
Killing a world boss
Completing a volcanic vent
Crafting blacksmithing item
Crafting sweet food
Accepting a dual request
Disapproval
Killing innocent NPCs
Stealing from a container
Stealing from a corpse of an innocent NPC
Entering the Dark Brotherhood Sanctuary
Entering an Outlaws Refuges
Isabel Builds
Isobel Veloise is a temple-type companion that makes her a tank or warrior. Which build you prefer depends on your personal playstyle. However, lightning staff and aggressive armor would be a good choice for her. Elemental Barrica, Sun Brand, Penetrating Strikes, Divine Destruction, Parallel, and Baneslayer would be good skill sets.
Perk
Isobel's Grace gives the players a chance to recover the pack of a slain knight after they kill a World Boss. There is also a chance to gather additional loot. If you complete Isobel's quests, you can access the perk even if the companion is not summoned.