Horizon Forbidden West is one of the best open-world games released in 2022. There are several legendary armors in the game. So which armor set is best for you depends on your playstyle. In this post, I'll go over most of the armor sets and tell you how to get the best armor in Horizon Forbidden West.
Oseram Artificer Armor in Horizon Forbidden West
Once you reach Barren Light, you will encounter salvage contractors. These gentlemen will give you your first contract to find the parts needed to craft a special armor. After completing the other three contracts, Horizon Forbidden West will give you the Oseram Artificer armor, which looks very good on Aloy. The Oseram Artificer armor is melee-focused but you need to have the right skills and combos to benefit from this armor.
Tenakth Marauder Armor Set
Before getting Oseram Artificer, you can try another melee-focused armor called Tenakth Marauder. It's not as good as the Oseram Artificer, but it has some nice melee perks as well. This armor will increase the damage of the spear. It can be bought from the merchant in Thornmarsh.
Utaru Winterweave Armor
Utaru Winterweave is another legendary armor set you can buy from Thornmarsh. This armor increases your stealth and camouflage abilities. It is great armor if you want to sneak around or go through a camp to destroy human enemies. You can move around without being spotted and with the quiet spear skill on this Utaru armor, you can destroy machines without attracting the attention of others. This armor allows you to carry 9 smoke grenades at the same time. With these extra smoke bombs, you can easily execute several silent strikes. If you upgrade the armor you can also unlock the enhanced strike damage which is very effective against machines.
Nora Tracker Armor Set
If you can't get the legendary armor, another stealth armor you can get from Thornmarsh is the Nora Tracker. This armor also gives you extra smoke grenade capacity and allows you to execute silent strikes. With quiet movement and spear skills, you can reduce the noise and easily sneak through camps.
Tenakth Tactician Armor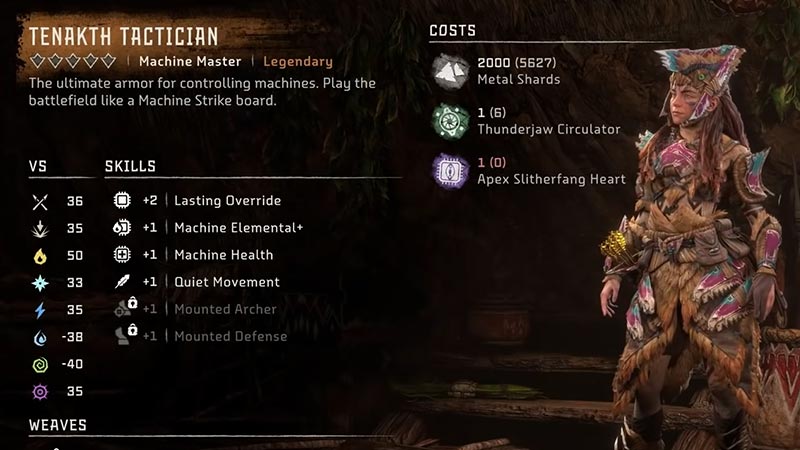 Tenakth Tactician is the last armor you can buy from the merchant in Thornmarsh. If you like the machine master playstyle, this armor will give you more power, but the Apex Slitherfang Heart can be difficult to obtain to get this armor.
Tenakth Vanquisher Armor
If you follow the Broken Sky main quest, you will eventually talk to two ladies in front of the arena. These ladies will give you a side quest to earn medals that are used to purchase special armor sets.
If you complete all the missions in the arena, you will get an armor called Tenakth Vanquisher. However, this armor is not really exciting in terms of perks. It's also a re-skin of other weak armors that you can unlock early in the game.
Carja Stalker Elite Outfit
The Carja Stalker Elite outfit looks great in terms of craftsmanship. It gives a maximum limit of 8 traps and has an extra smoke grenade capacity. It also has other advantages such as silent movement and low profile skills. Definitely, this outfit is for the trapper playstyle because of its trap limit.
Nora Thunder Warrior Outfit
Nora Thunder Warrior is a great outfit that enhances the core gameplay. And it comes with some perks like weapon and concentration improvements. So you have more time to hit the weak spots of the enemies and you can apply the status effects more easily. This armor makes the game easier and improves your playstyle.