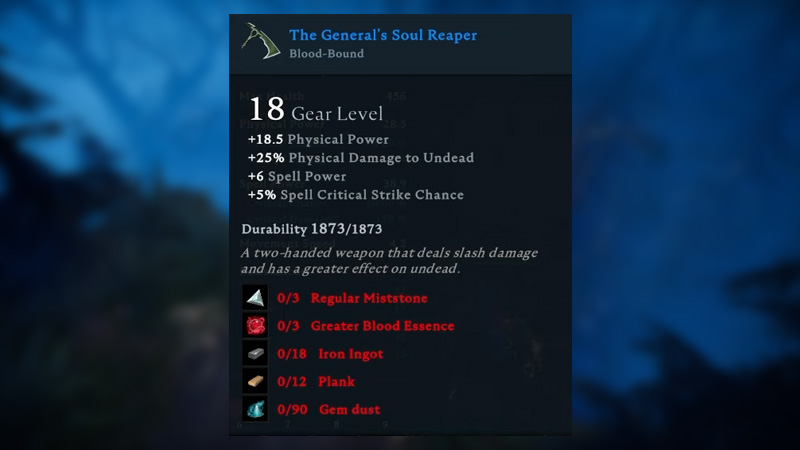 In this post, I'm going to show you a powerful weapon that you can get relatively early in V Rising. I'll tell you how to get The General's Soul Reaper in V Rising. This weapon works well in killing different bosses like Jade The Vampire Hunter. Also grants +6% spell power and +5% spell critical strike chance.
How To Get The General's Soul Reaper
You can find The General's Soul Reaper in Dunley Farmlands. Around the Church of the Damned, you will come across the Undead Commander patrolling the area. You will see several skeleton mobs in this place. Once you kill Undead Commander, there is a chance to get the recipe for this weapon. The drop chance is very low, so it can take a while to get the recipe.
To make this weapon, you will need the following materials.
Gem Dust (90)
Iron Ingot (18)
Regular Miststone (3)
Greater Blood Essence (3)
Plank (12)
You might think that this weapon is quite expensive to make. But if you compare it to other weapons such as the Merciless Iron Spear, you will see that it is a very good weapon and very cheap. And it offers extra spell power.
This weapon works well with many different builds. It works very well in various situations.